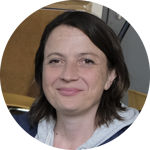 Ulrike Gärtner, Studium Musiktheater-Regie (Dipl.-Regisseurin) in Hamburg und Museumsmanagement in Berlin.
30 Operninszenierungen, Klanginstallationen, Kuratorin im Museum, Konzeption und Erstellung von Audioguides. Arbeiten am Europäischen Zentrum der Künste Hellerau für "Tonlagen" – Dresdner Festival der Zeitgenössischen Musik "Akademie für Experimentelles Musiktheater", "kids on stage"- Kinder- und Jugendtheaterfestival etc., 2000 "Inszenierung des Jahres" in der Opernwelt. 2008/ 2009 Operndirektorin der HAUPTSTADTOPER in Berlin, seit 2011 Kuratorin im Museum, interaktive Ausstellungsgestaltungen z.B. Entwicklung des Video-Buches zur Friedlichen Revolution "Wende-Seiten", partizipative Ausstellungsgestaltung für die Ausstellung "STASI", Konzeption und Ausstellung von Audiodokumenten im Büro des letzten Chefs der Staatssicherheit in Dresden, freie Mitarbeiterin der "Gedenkstätte Bautzner Strasse Dresden"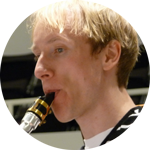 Albrecht Scharnweber, study orchestral music and music education in Dresden (Dipl. Orch.-Musiker, Dipl. Mus.-Päd.), bassclarinet and contemporary music in Strasbourg and Oslo (MA of Performing Arts). Founding member and meber of board of the ensemble for contemporary music El Perro Andaluz. With this and other chamber music groups participation in the festivals TransArt (Italy), Klangspuren (Austria), Tage der zeitgenössischen Musik Hellerau und Tonlagen (Germany), Warschauer Herbst, Milano Musica, Ultima Festival (Oslo), Mondayevening-concerts (Los Angeles), Other Minds Festival (San Francisco), Biennale Musiques (Lyon), FASE Festival (Madrid), Barentspetakel (Norway/Russia). Since 2016 managing director of KlangNetz-Dresden and project manager of several music education projects per year.